ABOUT ROSECRAFT BLADES
RoseCraft Blades is an American knife company based in Maryville, Tennessee. It was founded in 2021. RoseCraft Blades offers quality modern and traditional knives designed by a select team of American knife designers. RoseCraft Blades sources the best materials and manufacturers from around the world to produce its knives and plans to build a manufacturing facility in the USA in the future. In short, we make knives for people who love knives.
About RoseCraft Blades Name
"My father, Bill Rose was a product of the Depression in rural Middle Tennessee.  As a young boy, he worked in a hardware store and on the railroad.  He achieved local notoriety by inventing a "cherry picker" to keep him from having to climb cherry trees.  After a stint in the Navy during World War II and later, Korea, he settled in a desk job until retirement.
"Papa" to grandsons Harper and Hawkins was the consummate "piddler" – always making or fixing something.  He taught himself how to restore antique clocks, for example.  He carved beautiful ducks out of cedar blocks.  He made plant stands and hanging basket stands for his beloved wife Annie.  He made custom leather belts for his wonderful daughter A.W.  At some point – probably in the 1970's – he started calling his creations "RoseCraft."
In honor of Papa, who died in early 2000, we have named RoseCraft Blades to carry on his legacy of high quality, great design, and pride in doing it right the first time."
William Rose
Proprietor, RoseCraft Blades
About RoseCraft Blades Birth
"On a summer day in 2021, William Rose and I had a lunch meeting on the deck at a restaurant by the river. We worked together nearly 20 years earlier, but we hadn't seen each other or really talked much since then. What started as a meeting about some graphic design work changed as we reminisced about the knife industry.
Nearly seven hours later, a few things were very clear. First, there was room in the knife market for a new brand, and William's son, Hawkins wanted to pursue his passion for knife-making and design. Second, I had the experience in the industry and truly wanted to show what I could create as a knife designer. Third, William had the brand name his father created years ago, and by the end of that very first meeting, RoseCraft Blades was born.
Over the next couple of weeks, we met several more times. By the end of that month, the RoseCraft team was assembled and held its first meeting. It's all been a whirlwind since then."
Andy Armstrong
General Manager, RoseCraft Blades
About RoseCraft Blades Designers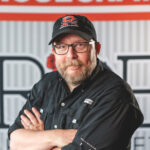 Andy Armstrong
General Manager & Lead Designer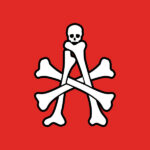 With over 24 years of experience in the knife industry, Andy Armstrong produced designs for well-known brands like Colt, Remington, Case, Zippo, Winchester, and many more. As a ghost designer, he produced initial conceptual knife designs on behalf of others for brands like TOPS, Esee, CRKT, and Kershaw. In the last 15 years, Armstrong designed several original slip joint patterns including the Bow Trapper, the Upswept Bow Trapper, and the Kayak to name a few.
While he's quick to point out that he's a knife designer, not a maker, Andy Armstrong is looking forward to taking his knife design skills to the next level and helping to develop design team talent as the General Manager and Lead Designer at RoseCraft Blades.
See all of Andy Armstrong's RoseCraft Designs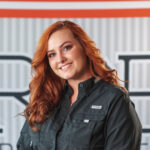 Savannah "Swaggs" Swaggerty
Designer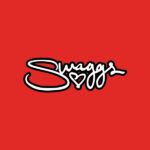 Savannah Swaggerty originally appeared as a guest on a knife podcast hosted by Andy Armstrong. She was supposed to only be a guest for two episodes, but the audience liked her so much that he added her to the cast. The knife community came to know her simply as Swaggs. Over the next couple of years, Swaggs learned everything she could about the knife industry and appeared in literally hundreds of knife videos and live broadcasts.
In 2019, Swaggs launched her own knife channel. In 2020, she designed her first knife for Kizer (the Swaggs Swayback) and her second knife for CJRB. Swaggs has appeared at both BLADE and SHOT Show for CJRB. They recently released the sequel to her popular CJRB Maileah, the More Maileah. When Andy started the process of building the RoseCraft team, it seemed only natural to add Swaggs to the mix.
See all of Swaggs' RoseCraft Designs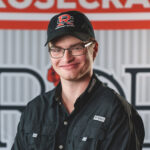 Hawkins Rose
Designer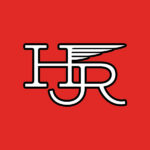 Hawkins Rose has been around the knife industry since he was an infant and fell in love with knives from a very early age. When Hawkins was a young boy, he sat with his father in a meeting with some knife manufacturers. As the story goes, he wasn't shy about choosing knives from the sample table that he thought would do very well in the market. The manufacturers were so impressed by his choices and reasoning, they called him a natural and said he should come back to their facility and help them out.
These days, Hawkins feels most at home working with and riding horses on the farm, and his knife designs reflect hard work and his hands-on approach to the world. He makes his debut as a knife designer with the launch of RoseCraft blades, and his ideas and love of knives are evident in the design of the MOHOK, the Little Chonk and the Adjuta.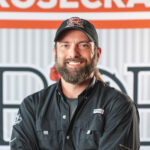 Chase Snyder
Designer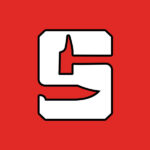 Chase Snyder comes by his love of knives honestly. As a carpenter, he's worked with his hands and the tools of the trade for nearly 20 years – and that includes a lot of knives. In the last few years, Chase crafted and installed custom knife handles, and that led to a passion for knives and knife design.
Chase not only loves a knife that is easy to carry and gets the job done, but also has an artist's eye for "sleek and sexy" knives. He makes his debut as a knife designer with the launch of RoseCraft Blades, and the Alenta and the Ogee fit that bill with their lean curves and upswept blades.
Chase looks forward to getting even more hands-on with knife design and knife making. He's working toward certification and hopes to lead the USA-based manufacturing team for RoseCraft in the future.
See all of Chase Snyder's RoseCraft Designs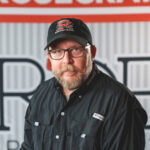 Andy Armstrong
General Manager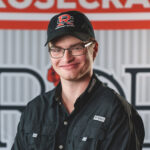 Hawkins Rose
Designer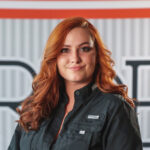 Savannah Swaggerty
Designer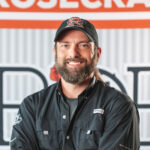 Chase Snyder
Designer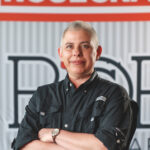 Jolynn Armstrong
Ambassador Relations
Social Media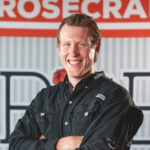 Clay Jolley
Logistics